Responsible Business
How do businesses contribute to consumer protection?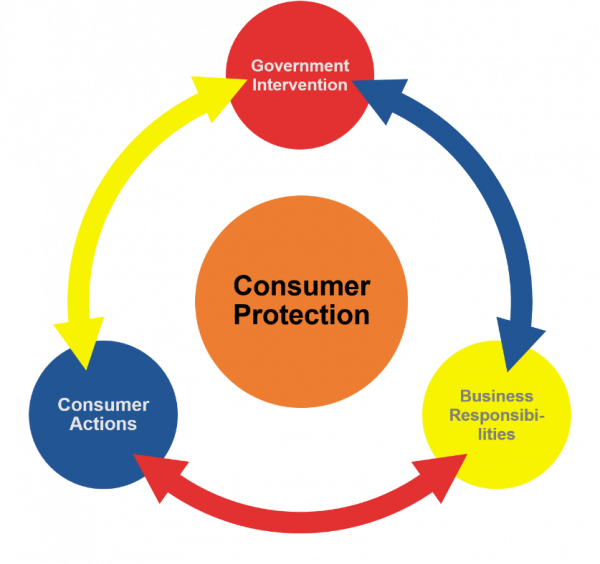 Businesses play a key role in an effective consumer protection system. With the government putting into place rules and regulations to protect consumers from harm, the latter are expected to exercise due diligence, i.e. they need to be active and critical of the products and services they purchase or use. This requires continuous efforts by the government as well as consumer associations to educate consumers about their rights and responsibilities.
At the same time, businesses need to do their part: aside from refraining from unfair or fraudulent business practices, they have to provide transparent and complete information to consumers about the products and services they offer, including the modalities and means for returns, replacements or refunds.
In other words, it is only through the concerted efforts of government, civil society and businesses that consumer protection can be effectively implemented.
Responsible business conduct is a crucial prerequisite for growth and innovation. If businesses compete fairly and offer products and services at good quality and reasonable prices for consumers to choose from, this promotes both competitiveness as well as consumption. As a result, citizens and the overall economy benefit. This is in line with Principle 3 and 4 of the ASEAN High-Level Principles on Consumer Protection for businesses to also be actively involved in ensuring consumers' access to safe goods and services, as well as appropriate and convenient sources of advice and dispute resolution.
With the emergence of cross-border e-commerce and economic digitalization, businesses also faces challenges in guaranteeing that consumers can seek compensations across state jurisdiction. This is particularly addressed in the ASEAN Strategic Action Plan for Consumer Protection (ASAPCP) 2025, in which the ASEAN Member States through the ASEAN Committee of Consumer Protection commits to publishing an Code of Conduct for Online Businesses, as well as generating a regional framework for cross-border cooperation and guidelines for B2C complaints handling. These are due to be finalized by the end of 2019.
What can businesses do to ensure consumer protection?
There are several ways in which businesses can build consumer confidence and guarantee that their rights are adequately protected.
When it comes to complaints, businesses are often the first point of contact. It is therefore important that they install a customer service or hotline, along with the necessary procedures, to deal with consumer complaints. While this is already fairly common and functioning within larger multinational companies, smaller companies may not be sufficiently aware (or convinced) of their obligations towards consumers.
Particularly in developing or least developed countries, these smaller companies can benefit from guidance that is based on international good practices, for example in the form of standard contract terms or other templates.
Such efforts need to go hand in hand with general awareness-raising campaigns in order to not only empower consumers to make the right choices, but to also mainstream consumer protection principles among the business community. The resulting commitments by businesses may lead to the adoption of general code of conduct, as the basis (or testament) for concrete action in individual companies.
As responsible business conduct is not only linked to consumer protection, it can also be discussed more broadly in relation to integrity issues (i.e. anti-corruption, competition compliance) as well as corporate social responsibility (CSR).
What can businesses specifically do to treat consumers fairly?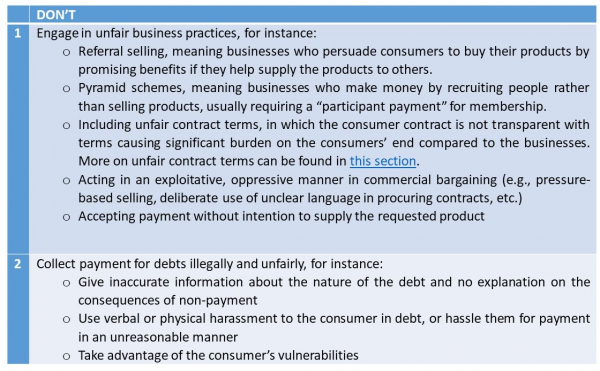 Unfair Contract Terms
With every goods and services traded, businesses enter to a contract with consumers. The provisions in these contracts are commonly referred to as "contract terms", which includes the "terms and conditions" and disclaimers printed in tickets or receipts, as well as detailed agreements requiring signatures from the consumers.
It is important that contracts do not result in a significant imbalance between the rights and/or responsibilities of the consumers and those of the businesses. If the contract terms place an oppressive or exploitative burden to one of the parties, the contract can be considered unfair. In many countries, unfair contract terms are considered void or no longer binding to both the consumers and businesses.
The following are common examples of unfair contract terms:
The term is not presented in a clear, plain language.
The term allows only one party the right to interpret any clause of the contract.
The term allows only one party to make changes to any clause of the contract (usually without prior information to the other party affected by the change).
The term allows only one party to avoid their responsibilities in the contract (e.g. due compensation).
The term allows one party to defer their responsibilities to the other party.
The term allows only one party to terminate the contract.
The term allows only one party to give penalty in cases of contract termination.
Misleading Statements
Businesses should be clear in representing the goods and services they offer, or otherwise face sanctions from violating consumer protection laws. The following figure provides general guidance to businesses on how to avoid misleading consumers in promoting their goods or services.