Responsible Business
Business also has an important role to play vis-a-vis consumer protection. Business is one of the components that completes the triangle for a comprehensive consumer protection system.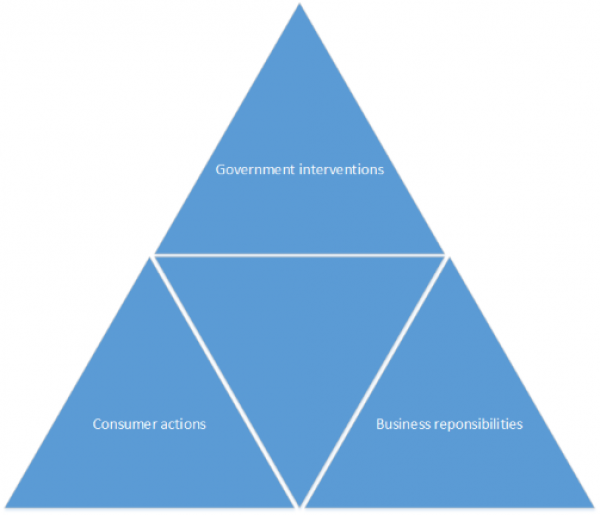 Customers are the lifeline of most businesses. In order to ensure long-term sustainable growth and success for their business, business proprietors and managers need to be able to understand consumer demands and anticipate future trends; pay close attention to consumer opinion polls, feedback, and attitudes; and respond to consumer complaints in a timely and effective manner; in addition to constantly improving product designs, production and delivery. This is based on the recognition that the relationship between consumers and business does not just happen during a transaction; but starts from the initial stages of market research, marketing and advertising; and extends beyond the actual supply of goods and services to customer care, warranty and repair, etc.
As products or services can be defective or there is need for more product and service information, businesses are increasingly setting up customer hotlines, inquiry desks and consumer complaint-handling sections/departments to respond to the needs of consumers.
Principles for Good Business Practices under the United Nations Guidelines for Consumer Protection (UNGCP):
Fair and Equitable Treatment - Businesses should deal fairly and honestly with consumers at all stages of their relationship;
Commercial Behaviour - Businesses should not subject consumers to illegal, unethical, discriminatory or deceptive practices, or other improper behaviours that may pose unnecessary risks or harm consumers;
Disclosure and Transparency - Businesses should provide complete, accurate and not misleading information regarding the goods and services, terms, conditions, applicable fees and final costs to enable consumers to take informed decisions;
Education and Awareness Raising - Businesses should, as appropriate, develop programmes and mechanisms to assist consumers to develop necessary knowledge and skills to take informed decisions;
Protection of Privacy - Businesses should protect consumers' privacy through a combination of appropriate control, security, transparency and consent mechanisms relating to the collection and use of their personal data; and
Consumer Complaints and Disputes - Businesses should make available complaints-handling mechanisms that provide consumers with expeditious, fair, transparent, inexpensive, accessible, speedy and effective dispute resolution without unnecessary cost or burden.