The Philippines' Peer Review Exercise Complete
Philippines , 03 November 2021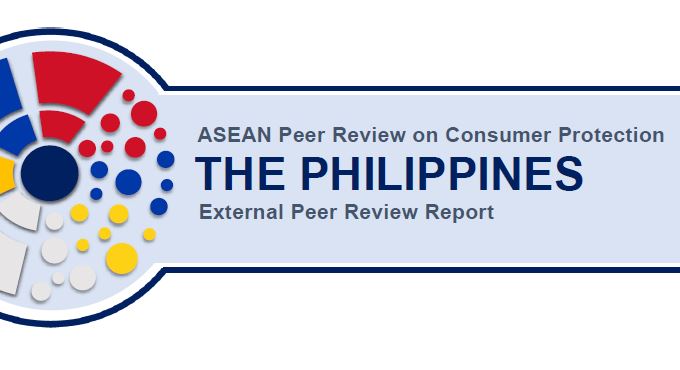 The Pilot ASEAN Peer Review of the Philippine's consumer protection regime has been completed. The assessment covered a wide range of aspects in the following areas: (i) Policy Formulation; (ii) Advocacy; (iii) Monitoring and Enforcement; and (iv) Redress. The voluntary Peer Review was carried out to examine the existing consumer protection system and provide recommendations on policy reforms. Aside from encouraging ownership and mutual learning, the Peer Review serves to promote regional dialogue along with regulatory convergence in the longer term.
The pilot commenced in 2020 with the Philippines being the first ASEAN country to be Peer Reviewed. A review of the 1992 Consumer Act of the Philippines (CAP) and its supplementary rules and regulations was undertaken. The Report finds that the Philippines stands well-equipped to help safeguard the rights and legitimate economic interests of consumers. It notes the achievements made including regularly conducting social media campaigns, webinars, television and radio programs that increased consumer awareness of their rights and responsibilities, and the "No Wrong Door" policy initiative, which helped the Department of Trade and Industry (DTI) resolve 99.19% of complaints received in 2020.
Several recommendations were identified in the Report, including the need to amend the CAP to encourage consumers to proactively protect themselves, and supporting submissions of online complaints through a National ODR Network, which is currently in the works (Philippines Online Dispute Resolution System (PODRS)).
The Peer Review is the first of the two peer reviews to be conducted under the ASEAN Strategic Action Plan On Consumer Protection (ASAPAPC 2016-2025). The peer review is supported by of the Deutsche Gesellschaft für Internationale Zusammenarbeit (GIZ) GmbH, under the "Consumer Protection in ASEAN" (PROTECT) project.
The peer review can be downloaded here.