The OECD and ASEAN Joint Virtual Event on Nudging Consumers Towards Greener Choices
ASEAN , 08 February 2022
Participants from various consumer organisations worldwide and relevant stakeholders took part in the 'OECD and ASEAN Joint Virtual Event on Nudging Consumers Towards Greener Choices'. Consisting of two-panel discussions, the Workshop explored the sustainable consumption initiatives implemented by the ASEAN and OECD countries from both the public and private sectors to deepen the understanding of consumer attitudes and behaviours to support the green economy.
"This workshop seeks to identify key challenges of Sustainable Consumption (SC), to have a deeper understanding of consumer attitudes and behavior in SC, and identify existing gaps between the sentiment and action of consumers towards SC," said Mr. Hugh Stevenson, Chair of the OECD Committee on Consumer Policy mentioned that at the start of the Workshop.
"We are, however, concerned that the trend of consumers selecting SC products may force companies to take unscrupulous lengths to win the market, such as to greenwash their products. Thus, a clear and credible eco-labeling scheme will need to be put in place to ensure the products purchased are produced sustainably", Dr. Christiane Rohleder, State Secretary of the Federal Ministry for the Environment, Nature Conservation, Nuclear Safety and Consumer Protection of Germany (BMUV).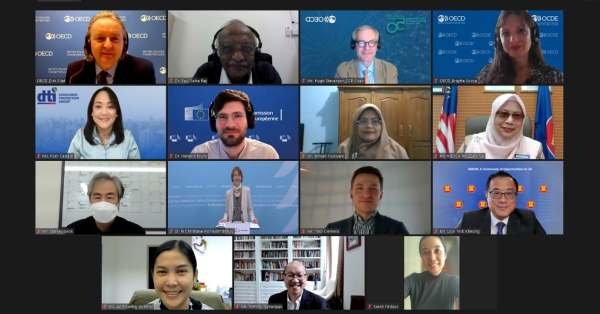 Datin Roszanina binti Wahab, Deputy Secretary-General (Consumer Empowerment), Ministry of Domestic Trade and Consumer Affairs, Malaysia, and Chair to the ASEAN's Committee for Consumer Protection (ACCP) highlighted in her keynote speech on the need for consumers to adopt SC, in light of increasing global consumption.
She also highlighted the ongoing ASEAN initiative for SC, such as the adoption of the Framework for Circular Economy for the ASEAN Economic Community on 18 October 2021, as well as the development of the ASEAN Sustainable Consumption Toolkit, led by the ACCP.
She informed that the "ASEAN Sustainable Consumption Toolkit aims to assist consumer officials to promote sustainable consumption by providing information on behavioral, communications, regulatory, and economic tools. We hope to publish the Toolkit in early 2022 on the ASEAN Consumer Website", she added.
Eco-labeling on products or services that complies with Sustainable Consumption or Production (SCP) criteria was predominantly highlighted during the workshop. "Having a clear rating of how green the product is or how much more sustainable is compared to others would not alienate businesses who have attempted some form of SCP and encourages them to further adopt SCP methods to increase their ratings", Mr. Tino Clemens, Policy Officer, Federal Ministry for Economic Cooperation and Development, Germany (BMZ) informs.
Dr. Paul Selva Raj, Secretary-General, Federation of Malaysian Consumers Associations (FOMCA), presented Malaysia's experience towards SC, in which he highlighted the need to "…survey consumers to understand their behaviors, social norms, attitudes, community dynamics and environments to tackle SC issues. From this, we take a holistic but flexible approach towards education, community influence, and communication to change consumer behavior".
"In the Philippines, there are a few sustainable products available in the market so we must figure out how to create demand to make it widely available. Governments, for now, are approaching online shopping platforms to reduce single-use plastics" said Atty. Ruth B Castelo, Undersecretary of the Philippines Department of Trade and Industry Consumer Protection Group (DTI-CPG).
Ms. Aomruethai Konmai, Plan and Policy Analyst, Office of Consumer Protection Board (OCPB), Thailand, "believe that education is the underlying requirement should we expect consumers to switch and to drive demand towards SC products. Doing this would make SC products the norm for consumers".
Mr. Stanley Seok from the Korea Environmental Industry & Technology Institute (KEITI) also highlighted the "Green Credit Card" initiative in Korea, where consumers who purchased green products and services are incentivised with discounts for future purchases. "This would not only incentivise consumers, it also provides us a rough KPI on how much consumers are switching to SC products" he explained.
"Solid policy incentive is required if we wish to drive producers to adopt SCP. We could not expect businesses to suddenly push the envelope to ensure SCP. Consumers and governments have roles to play to drive demands of SC goods in the market" said Mr. Tommy Tjiptadjaja, Co-Founder and CEO of Greenhope Indonesia.
Closing the workshop, Mr. Looi Teck Kheong, Head of Competition, Consumer Protection and Intellectual Property Rights Division of the ASEAN Secretariat, mentioned how eco-centrism has become more and more widespread. "We hope that this will be the start of a long and healthy cooperation between the OECD and ACCP towards sustainable consumption and production.
The details and video of the event can be found here.