Home
/
News
/
Consumer Protection Competition and Fraud Repression Directorate-General Co-organize a national workshop to disseminate the Consumer Protection Law under the theme "Promoting Ethical Business in Cambodia: Consumer Well-being and Your Business"
Consumer Protection Competition and Fraud Repression Directorate-General Co-organize a national workshop to disseminate the Consumer Protection Law under the theme "Promoting Ethical Business in Cambodia: Consumer Well-being and Your Business"
Cambodia , 23 September 2021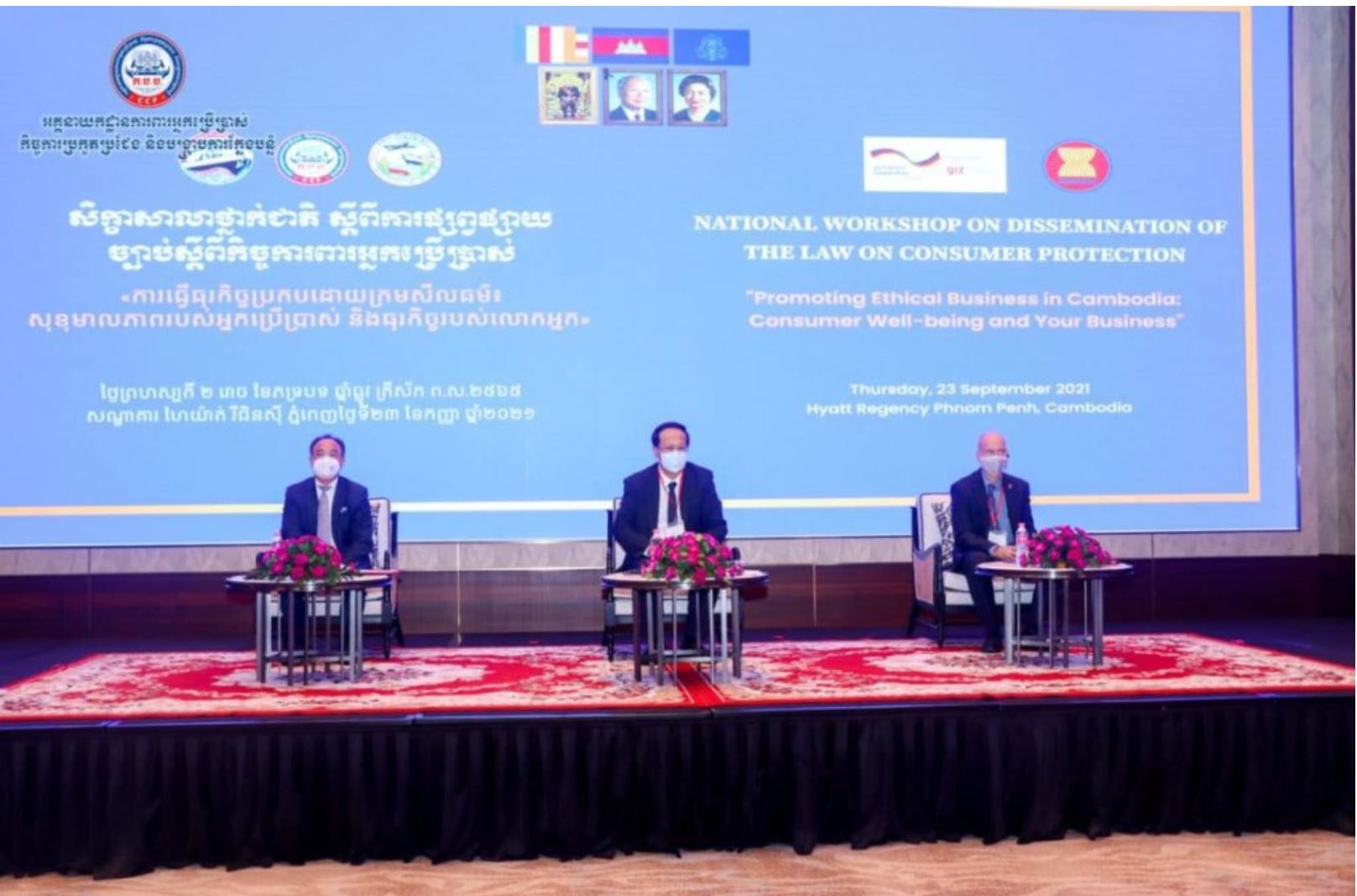 (Phnom Penh): On the morning of Thursday, September 23, 2021, the Consumer Protection Competition and Fraud Repression Directorate-General, CCF Of the Ministry of Commerce in collaboration with GIZ and the Cambodian Chamber of Commerce (CCC) h
eld a national seminar on disseminating consumer protection laws under the theme "Promoting Ethical Business in Cambodia: Consumer Well-being and Your Business".
The workshop was chaired by His Excellency Pan Sorasak, Minister of Commerce and Chairman of the National Commission for Consumer Protection "NCCP" and attended by His Excellency Lok Chumteav, Secretary of State, Undersecretary of State, Permanent Vice-Chairman, Vice-Chairman and members of the NCCP. Neak Oknha, Mr. Oknha, Chairman, Vice President and Member of the Cambodian Chamber of Commerce.

This workshop is to enhance understanding of Consumer Protection Law to businesses from different sectors, and to enhance cooperation between the competent authorities, regulators, and businesses to ensure the effective implementation of relevant laws and regulations, especially to promote doing business with ethics and integrity. It aims to promote the CCF new web portal www.ccfdg.gov.kh as a means of disseminating and sharing information, Knowledge, legal and regulatory documents related to consumer protection, competition, and fraud repression. Additionally, this workshop serves to promote the roles and responsibilities of CCF, as well as NCCP in complaint handling and redress mechanisms that are related to consumer protection, competition, and fraud repression in Cambodia.