Cambodian Officials Undertake Consumer Law Investigations Training
Cambodia , 26 February 2021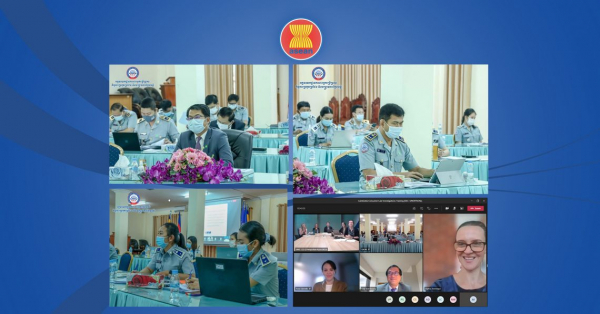 Yesterday, 28 Cambodian officials from the Department of Consumer Protection, Ministry of Commerce participated in a three-day online training course on consumer law investigations.
The Australian Competition and Consumer Commission (ACCC) delivered the training as part of the AANZFTA Consumer Affairs Programme (CAP) with support from the AANZFTA Economic Cooperation Support Programme and in cooperation with the ASEAN Secretariat.
Through the training, Cambodian officials learned how to conduct effective and efficient investigations from experienced ACCC investigators who shared practical knowledge and techniques. Participants explored various case studies drawn from the ACCC experts' on-the-job experience, including a recent ACCC investigation into an eyewear retailer. The experts guided the participants through hypothetical investigation activities during the training.
Phan Oun, Director-General of the Ministry of Commerce Directorate-General of Competition, Consumer Protection and Fraud Repression noted that, "CCF staff have benefited greatly by learning directly from highly skilled ACCC investigators. The CCF's mission is to ensure the quality and safety of products and services, protect the economic interests of consumers, and to create a fair and competitive business environment.''
''The knowledge and skills that staff have obtained through this training will assist the CCF to uphold this mission by conducting robust investigations under Cambodia's consumer protection law. Capacity building partnerships and activities such as this are crucial for strengthening Cambodia's consumer protection regime," he added.
On her part, ACCC General Manager – Agriculture, International and Advocacy Gabrielle Ford stated that, "the training provided attendees with the foundations for doing effective investigations to enforce Cambodia's new consumer protection laws. The ACCC was pleased to see a large number of CCF staff attend the training."
"Consumer protection laws are important because they protect and empower consumers, and also promote efficient and competitive markets. As effective laws need effective regulators, one of the goals of CAP is to support regulators like the CCF to build their expertise and strengthen capabilities to implement consumer law. We look forward to continuing our engagement with the CCF, and seeing the CCF put their new skills knowledge into practice, to benefit consumer protection in Cambodia," she concluded.
At the end of the training, participants reported a deeper understanding, including on how to strategically plan an investigation and gather evidence. A survey taken during the training showed that 96% participants were likely or very likely to apply the new knowledge gained from the training in their daily work.
The training was modeled on training offered to new ACCC investigators and was tailored to suit Cambodia's local context and needs. It was delivered in English with supporting materials in Khmer.
Looi Teck Kheong, Head of Competition, Consumer Protection and Intellectual Property Rights Division of the ASEAN Secretariat closed the workshop and noted that, "the AANZFTA CAP is creating important new opportunities for members of the ACCP to engage with regional peers to strengthen consumer law implementation in our region. We look forward to AANZFTA CAP providing more opportunities for ASEAN consumer officials to develop their skills and knowledge through engagement with partner organisations including the ACCC and New Zealand Commerce Commission."
The AANZFTA CAP will continue to facilitate online technical cooperation projects with members of the ASEAN Committee on Consumer Protection throughout 2021, supporting strengthened and cohesive consumer protection in the AANZFTA region.
ASEAN competition and consumer officials are able to access a suite of online learning modules (including materials from this course) through the ACCC's online learning portal for AANZFTA competition and consumer law officials – CLIP Academy.
###
For further information, please contact the AANZFTA Support Unit at https://aanzfta.asean.org/contact-aanzfta.