ASEAN Launches Handbook on ASEAN Consumer Protection Laws and Regulations
ASEAN , 05 July 2018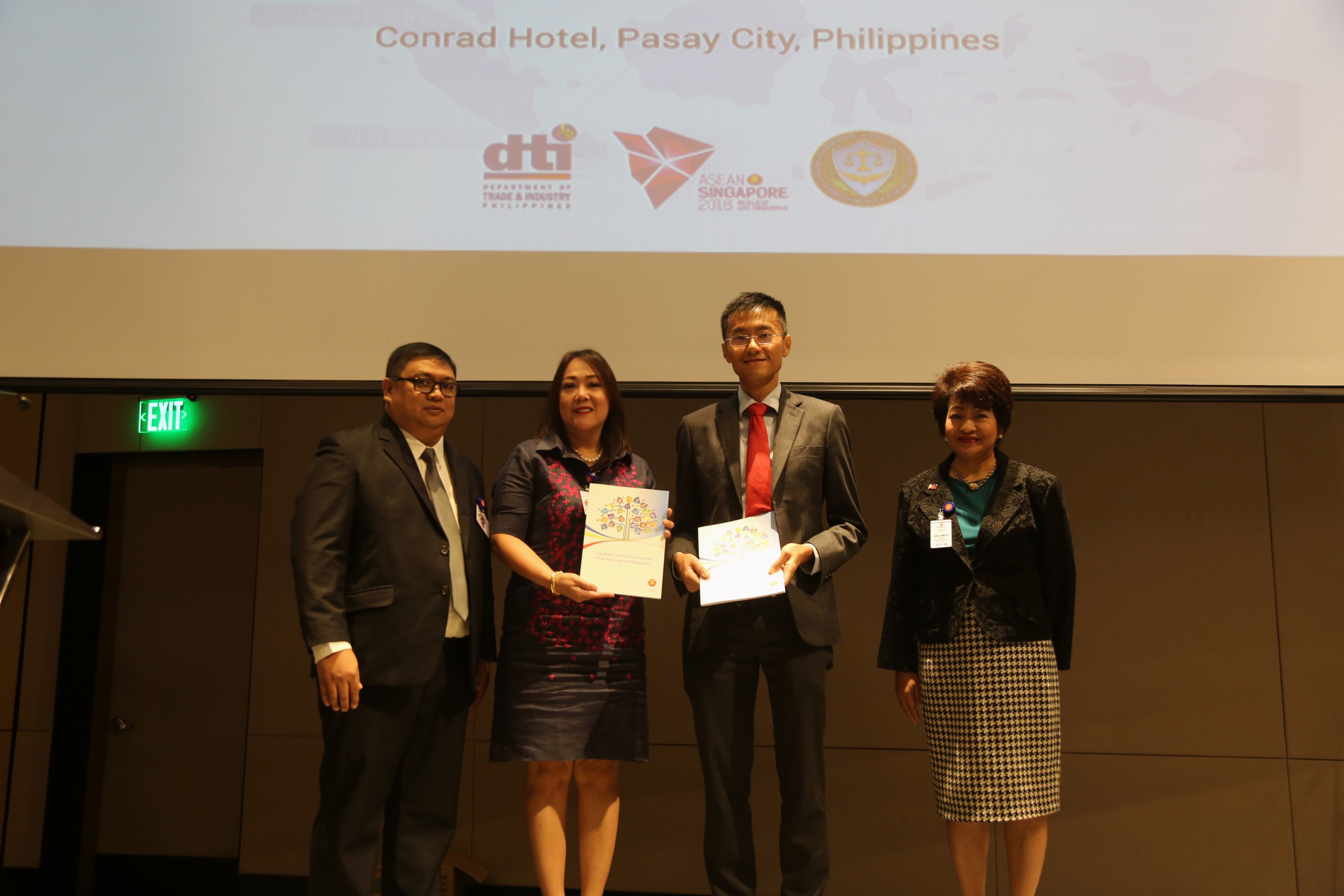 Manila, 7 May 2018: The ASEAN Committee on Consumer Protection (ACCP) launched the Handbook on Consumer Protection Law and Regulations in a short ceremony attended by Mr Eugene Toh, Chair of the ACCP and Undersecretary Ruth Castelo, Department Trade and Industry, the Philippines.
Consumer protection is an area of policy and law that most closely affects the 600 million ASEAN citizens in their daily life. ASEAN is characterised by a young and growing population, increasingly well-educated and living in cities, as well as technologically-connected. This group constitutes half of ASEAN's population and in the years to come, will create a discerning and demanding consumer market and progressively stronger buying power. On the other hand, cognizance of the other consumer groups such as the aged and those with disabilities must also be fully taken into account.
In this context, ASEAN's goal under its 10-year Strategic Action Plan for Consumer Protection (ASAPCP) is to build confident and informed consumers, able to make reasoned decisions and assert their rights, based on a common ASEAN consumer protection framework of supportive consumer protection regimes. As highlighted by the ACCP Chair, Mr Eugene Toh of Singapore "Confident and empowered consumers can represent powerful drivers of innovation, productivity and competition thereby contributing towards building the ASEAN Economic Community".
One of the foundation for an empowered consumer is through access to information. This Handbook aims to fulfil this need by compiling information on ASEAN Member States' laws and regulations on consumer protection and details of the agencies in AMS responsible for consumer protection, the complaints mechanisms and mediation centers as well as a listing of national consumer associations. Information is also available on the ASEAN regional framework on consumer protection in terms of the work of the ACCP and the ASAPCP 2025, with focus on the 2017 ASEAN High-Level Principles for Consumer Protection. The Handbook serves as a quick reference on consumer protection frameworks or system in AMS and it is also designed for the use of consumers, officials, policy-makers/legislators and researchers.
The Handbook was developed by the ACCP in consultation with various stakeholders from different Ministries (Product Safety and Labelling, Phone, Internet Services and E-Commerce, Consumer Credit and Banking, Healthcare Services, Professional Services, and Transport Services). Special thanks to the German Federal Ministry for Economic Cooperation and Development (BMZ) and the Deutsche Gesellschaft für Internationale Zusammenarbeit (GIZ) GmbH for their guidance and support in realising this publication.