ASEAN, Germany Raise Awareness on Consumer Protection in the Digital Age
ASEAN , 16 September 2021
To address emerging issues for consumer protection in the digital age, the ASEAN Committee on Consumer Protection (ACCP), in cooperation with the German Federal Ministry for Justice and Consumer Protection (BMJV), hosted an online conference with the theme "How Can Digital Self-Determination and Access to Justice Be Guaranteed?"
The conference, which took place from 14 – 15 September, served to raise awareness about recent trends and developments related to digital consumer protection in ASEAN and Germany. Discussions focused on new approaches to educate and empower consumers, as well as ensure that they can easily obtain redress. The topics of discussion included consumer risks in the evolving digital landscape in ASEAN; promoting digital self-determination of consumers; new technologies to facilitate consumer access to justice, the role of civil society; business and policymakers/regulators in shaping digital consumer policy; and ASEAN's priorities in strengthening consumer protection in the digital age.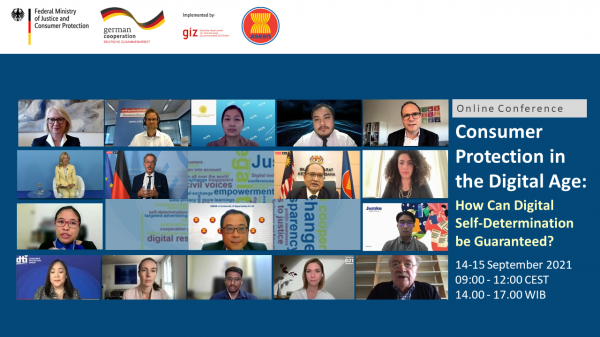 In his opening remarks, Datuk Seri Hj Hasnol Zam Zam bin Hj Ahmad, Secretary-General of the Ministry of Domestic Trade and Consumer Affairs stated that 'the problems became pronounced during the pandemic as abuse and unfair trade practices by fraudulent online businesses increased substantially. Therefore, protecting and empowering consumer rights offline and online is crucial to build confidence and instill trust in these internet platforms for long term sustainability."
This was echoed in the keynote speech by Christian Kastrop, State Secretary of the BMJV, who emphasised the urgency of platform regulation and other policies to promote "fairness by design."
''Digital policies should not just address consumers, but also the architecture of their digital environments. There is no trade-off between human-centric digital governance and innovation of business models. Binding and enforceable rules have the potential to build trust, acceptance and legal certainty, and thus foster innovation. He added, that the use of new technologies should provide a high level of consumer protection and civil society empowerment,'' he said.
Head of the Competition, Consumer Protection and Intellectual Property Rights Division of the ASEAN Secretariat Looi Teck Kheong reiterated the commitments of the ACCP and other Sectoral Bodies of ASEAN towards enabling and creating a digital economy that delivers for both businesses and consumers in the region.
Among others, he highlighted initiatives to establish Online Dispute Resolution mechanisms as well as guidelines for consumer protection in e-commerce, to complement the upcoming ASEAN Digital Economy Framework Agreement. He also mentioned the importance of being smart consumers that are not only empowered but also able to make informed decisions.
The conference is co-organised by ACCP and the Federal Ministry of Justice and Consumer Protection (BMJV) of Germany, with support from the ASEAN Secretariat and the Deutsche Gesellschaft für Internationale Zusammenarbeit (GIZ) GmbH.